David is a part time driver and has worked in Community Transport for several years now, nearly half that time with Stryder. Starting as a Casual driver, he has taken command of the Transport Coordinators desk, recently returning to driving a couple of days a week. He loves the opportunity to make a positive difference in peoples' lives and after 2 decades trying to work out how computers tick, he gained a Degree in Human Change. Still trying to work out what makes us tick! He is a father to 3 and grandfather to 6. When he's not behind the wheel David loves to get out on the road behind the handlebars on his motorcycle or drive his neighbours, crazy trying to play the drums!
Virginia has worked at the organisation for over 17 years in a few different roles. In 2014 she took on the role of General Manager and is passionate about community transport and seeing the difference it makes in the lives of the people we help. Virginia leads an amazing and supportive team of both employees and volunteers and recognises the importance each team member plays in making the organisation Stryder is today. Nothing gives her more pleasure than a call from a happy client, just ringing to say thank you for their trip and the extra effort the driver and team went to. "It's a privilege to work at Stryder and to have being instrumental in its growth, implementing new policies to support the strategic direction and working with the marketing team to bring about our new look and name, have been recent highlights."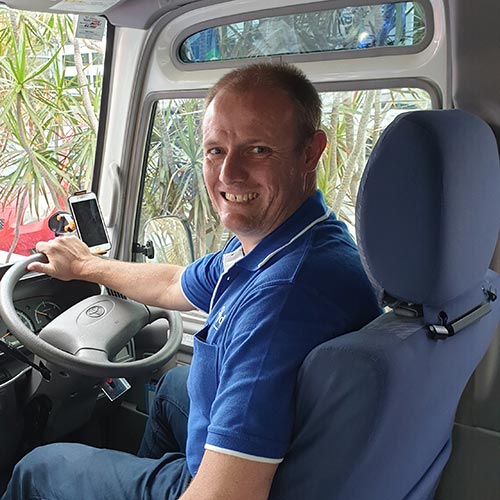 Bryce is new to the Stryder family joining in November 2020 which will see him lead the Operations Team. He has work in various transport roles across Sydney over the last 8 years including public, charter groups and most recently tourism. Bryce looks forward to continuing the legacy Stryder has developed in customer experience, reliable transport and specialist requirements whilst moving the business forward into the future. Outside work life, Bryce enjoys spending time with his 3 young boys, who keep him on his toes and, also all things sports and in particular football (soccer), of which he still continues to play competitively.
Business Development Manager
Cathy has recently joined our Stryder team as the Business Development Manager. Cathy comes from a background of various roles including event management, group tours, cross cultural consulting and aged care in the field of developing and growing social programs to prevent social isolation. Cathy has a passion for reaching out to our community regardless of age, level of mobility and cultural background to keep all socially connected. Cathy's goal is to understand the greater needs of the community and give them wheels to achieve it. 
Outside of working hours Cathy enjoys keeping active with beach and bush walks, socialising with friends, cooking and catering for group activities and is always available for a chat over a coffee.
Admin & Volunteer Manager
Ann Marie has over 9 years of health industry experience, more recently working within radiology. Her focus is to provide, exceptional customer service whilst understanding the needs of the individual clients. She is fun to be with, very organised and has a unique style of cajoling the team to deliver things to her on time.
Client Services Coordinator
Robyn joined Stryder in 2017 bringing with her an extensive background in client and customer service. As Client Services Coordinator, Robyn is passionate about delivering the best possible outcome for Stryder clients whilst also building good working relationships with all internal stakeholders. Her role entails the ongoing management of the highly popular Social Program, organisation of shopping and medical trips, phone bookings and input into the Social Media content. Adopting the attitude of 'what can I do to make a difference' is the approach that Robyn takes in all situations. With open and honest communications, anything is possible. Outside of work, its family & friends, netball, reading and exploring Sydney's amazing walking tracks.
Jeff has worked with Stryder for 12 months and is currently responsible for scheduling our clients with specific vehicles to available drivers. Prior to his work with the community, Jeff worked in the corporate world as a Sports' Journalist with Southern Cross Austereo (Triple M, 2Day FM). Jeff started his journalism career with Triple M in 1995, spent 7 years with the Nova Radio Network in the early 2000's, then returned to Triple M in 2012 to late 2019. During his career Jeff covered world events including  the 2004 Indian Ocean earthquake and tsunami, the Sydney Lindt Café siege and majority sporting events in Australia. In Jeff's spare time he likes to hang-out with his two daughters aged 8 and 10, surfs when he can and loves both AFL and NRL. Jeff has made an incredible transition from the corporate world to Community Transport and says " I absolutely love working at Stryder, it's a sincere privilege working with the staff, but I must admit – I love being responsible for getting our  special clients to and from their appointments in a friendly and safe manner"
I have been a driver with Stryder for 15 years, 6 years as a volunteer and 9 years as a casual part time team member. I enjoy driving and to be able to be part of a team that works together to provide transport for our clients to their medical appointments, shopping and social outings is a great pleasure and extremely rewarding in that you are contributing in a meaningful way to the needs of those in our community. It also extremely pleasing when clients express their thanks and appreciation for assisting them from their homes, in and out of vehicles and getting them to and from their destinations safely. It is a privilege to work for Stryder, an organisation that respects all team members and the contribution each member makes towards serving the community with door-to-door transport. Working for Stryder is not like the usual employer employee work place situation. It is like being in a loving caring family.
I have been an employee of Stryder for over 6 years now. Working in this organisation and the Aged Care / NDIS industry has been an amazing life learning experience. My role is to transport our clients to and from their destinations such as medical, social, shopping, etc. On these trips, our clients like to share their stories, their feelings, sometimes whether they are lonely or happy.  I try to empathise with our many clients, showing compassion and providing assistance to meet their needs. Stryder values its clients and acknowledges the importance of  understanding their needs and goals so we can provide the best level of service. I enjoy working here. We have a great supportive and positive network in our staff and volunteers.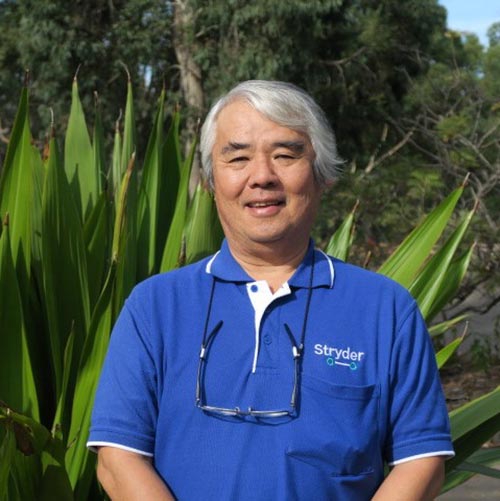 Naoto has been working at Stryder for 6 years now. He studied at TAFE in Community Services Certificate 3 . It helped him to understand clients' needs to constantly provide better customer services. He has good communication skills, which I gained from my previous working experience as a driver's guide for over 20 years. "Your smile makes me happy, and I enjoy working for you at Stryder."
Yaqub joined Stryder as a volunteer driver in 1996. In 2000, he was offered a full-time position as a community driver. Ever since, he has been involved in providing transport services such as group outings, shopping, and hospital appointments. In 2012, Yaqub took on the role of support driver where he also took on admin work and vehicle maintenance. He is passionate about serving the community and being of service to both his new and regular clients. Thanks to his diverse language skills, Yaqub has developed a good relationship with the diverse community of Ryde including the Italian, Sri Lankan, Iranian, Armenian, Egyptian and Riverlink community.