David Martin joined the Stryder Management Committee in 2016 and has served as Deputy President and Public Officer. From October 2020 he took up the role of President of Stryder. David's corporate experience includes 25 years in the manufacturing, consulting, airline and aged care sectors in human resources, operational and executive roles. Prior to his current work as the owner and operator of the Hire a Hubby franchise for the Mosman area in Sydney, David was Group General Manager for HammondCare (an independent Christian Charity specialising in aged, health and dementia care). This included leadership of HammondCare at Home ($90m annual turnover and around 2000 aged care clients), independent living and a range of corporate support services including people services, pastoral care and volunteers, information technology and capital works. David is a Graduate of the Australian Institute of Company Directors. His hobbies include playing music and vintage car restoration. He is married to Kara and has two adult children.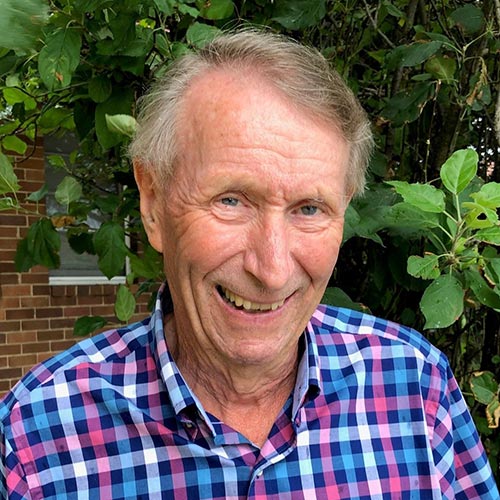 Greg Rich joined the Stryder Management Committee in 2018 and became Vice President in October 2020. He brings to the Committee over 45 years commercial experience across a broad range of Australian and international organisations, operating at Chief Executive and Board level with a number of substantial ASX listed companies. Greg spent the past decade in Senior Executive recruitment, and more recently became a volunteer social worker with Crow's Nest Community Centre.
John Nesbitt joined the Stryder Management Committee, as Treasurer, in 2020. He brings to the Committee about 45 years of broad business and commercial experience in both ASX listed and private companies. He originally qualified as a Chartered Accountant working in Australia and England. He then moved to roles in corporate finance, accounting as Chief Financial Officer and later as Managing Director of an ASX listed company. He later moved to roles in private companies in the medical field and industrial supply. John has also represented the Australian Shareholders Association at company shareholder annual meetings.
Russell has over a decades' experience in transport policy in both London and New South Wales. He is a former advisor to both the Premier of NSW and the Minister for Transport and continues to work on public policy challenges. Russell has sat on numerous boards and management committees in the not-for-profit sector and his expertise includes commercial, technological, business development, marketing and communications, strategic planning and corporate governance. He has always been passionate about supporting his local community and is keen to help Stryder to navigate the many changes that the community transport sector faces over the next few years in order to deliver better services for our clients. Russell has a Bachelor of Science (Bsc) degree from Kings College London and a Masters of Business Administration (MBA) from Cranfield School of Management. He lives in Ryde with his wife and three children, all under five. When he is not parenting, Russell loves to cook, read books and watch the English Premier League.
Ian Dear originally worked as a solicitor in private practice before joining CSR Limited as a corporate lawyer, a position he held for 10 years. He later held senior marketing and corporate management roles with CSR Limited, Goodman Fielder and James Hardie. In his years prior to retirement he was General Manager Marketing and Events at the Royal Agricultural Society of NSW and Chief Executive of the Muscular Dystrophy Association of NSW. He joined the management committee of Stryder (then known as Ryde Hunters Hill Community Transport) in 2012. After serving as Stryder's Vice President for three years he served as its President from 2017 to 2020. For 10 years Ian has volunteered as a driver with Stryder, working two days a week. He is passionate about helping vulnerable and transport disadvantaged people remain independent through accessible transport.
Paul Kelly joined Stryder as a volunteer driver in 2014 and was elected to the Management Committee in 2015. He subsequently served as secretary for 3 years. Before retiring in 2013, Paul worked for General Electric for 37 years in the Mining Sales & Service Section. For the last 10 years he managed this section and was responsible for the P/L and all aspects of the business. Paul enjoys travelling, plays golf regularly and is a very keen walker. Since retiring he has completed a number of long walks including the Coast to Coast in the England, El Camino in Spain and the GR5 in France from Lake Geneva to Nice.
Patricia Biszewski joined the Stryder Committee of Management in 2016. Patricia has had an extensive executive career in the maritime and logistics industry, driving and enabling business growth and organisational transformation and change through strategy, finance, information technology and human resources practices. She has held executive directorships in the logistics industry. Patricia has lived & worked in a number of countries overseas and is keen to use her experience to support those who are less advantaged. In this capacity, she has held non-executive directorships in organisations developing programs to empower socially marginalised women, children and communities in developing countries and is an independent Board member of Ability Options, one of the largest and most experienced disability service providers in NSW. Patricia holds an MSc in Transport from Imperial College London and is a graduate and member of the Australian Institute of Company Directors. Patricia is married and has one son. She enjoys playing golf, bakes artisan bread and is fascinated by languages; she speaks two languages fluently and has knowledge in two other languages.
Craig Chung joined the Management Committee in 2018. Craig is a small business innovator in the hospitality and education sectors. As a business turnaround specialist, Craig has seen the best and worst of government intervention in business. Craig believes that red tape, over-regulation and inefficiency are the worst attributes of government impacting small business. Craig is passionate about ensuring Sydney is digital-ready to become a Smart City. Ensuring residents, business owners, workers and visitors are equipped with the information and tools to prosper in the revolution that is Smart Cities. Craig is also a City of Sydney Councillor and prior to this, he served four years as a councillor on the City of Ryde Council. As a fourth generation Chinese Australian, Craig's family have had a continuous connection to Sydney since 1882, from The Rocks, to Chinatown, and Ryde, where he now resides. Craig is married with two teenage children. He has degrees in communication, psychology and law.